Micro-, Small, and Medium-sized Enterprises (MSMEs) account for 90% of businesses, 60-70% of employment and 50% of GDP worldwide. MSMEs are the backbone of global economies in the vast landscape of international commerce.
In the European Union, SMEs make up over 99% of businesses and employ 65.2% of the total workforce. The contributions of these innovative enterprises, particularly in the manufacturing sector, cannot be overstated. With their entrepreneurial spirit and adaptability to market demands, manufacturing SMEs have emerged as vital drivers of economic growth, job creation, and technological advancement across the European Union.
European Manufacturing SMEs foster regional development, sustain supply chains, and bring innovative solutions to current challenges like resource efficiency and digitalisation. They are central in the EU's twin transitions towards a sustainable and digital economy and in boosting Europe's prosperity, international competitiveness, and resilience to external shocks.
In today's rapidly evolving business landscape, manufacturing SMEs – especially those active in the advanced manufacturing industry – face unique challenges testing their resilience and adaptability. These organisations hold immense potential to bolster the European economy and drive innovation, economic growth, and job creation. However, they often struggle to access the resources and expertise needed to thrive in a highly competitive market.
Fortunately, there is a solution at hand. The TranS4MErs xChange platform offers a comprehensive range of services designed specifically to support SMEs in the advanced manufacturing sector.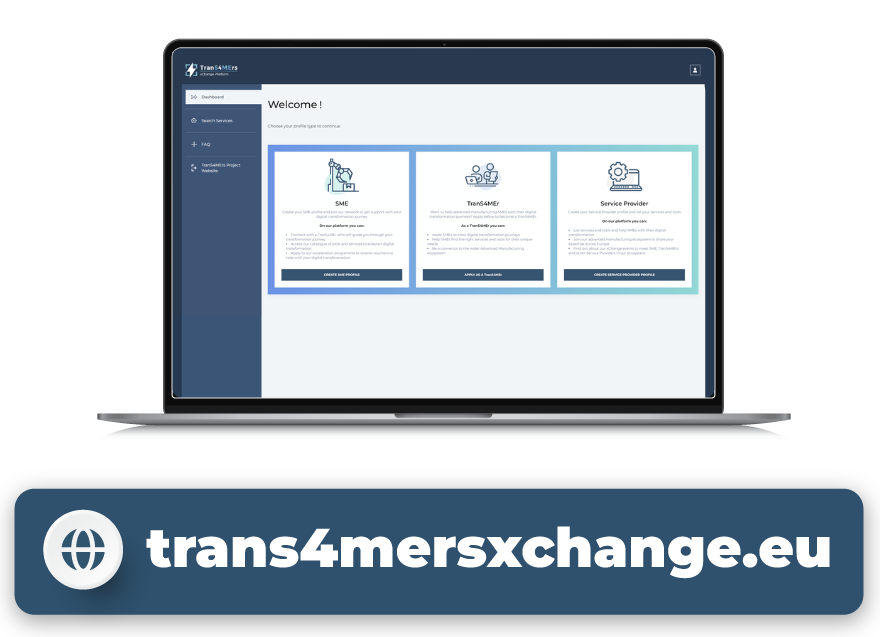 Access to expertise
One of the critical hurdles SMEs face in advanced manufacturing is limited access to specialised knowledge and expertise. The TranS4Mers xChange platform bridges this gap by connecting SMEs with a diverse network of industry experts, researchers, and consultants. These professionals possess valuable insights, technical know-how, and industry-specific experience. By tapping into this vast pool of expertise, SMEs can gain a competitive edge, enhance their operational capabilities, and overcome technical challenges.
Market Intelligence and networking
Staying informed about market trends, customer demands, and emerging technologies is crucial for SMEs aiming to remain competitive. The platform provides access to market intelligence and business development services tailored to the needs of SMEs in the advanced manufacturing sector. By leveraging this resource, SMEs can gain valuable insights into market dynamics, identify new business opportunities, and make informed decisions.
Funding and Investment Support
Access to adequate funding is often a significant barrier for SMEs in realising their growth potential. The platform offers support in navigating the funding landscape, connecting SMEs with relevant funding sources, grants, and investment opportunities.
Training and Skills Development
The advanced manufacturing industry is characterised by constant technological advancements and evolving skill requirements. To remain competitive, SMEs must invest in upskilling their workforce. Therefore, we offer a range of training programs, workshops, and knowledge-sharing initiatives designed to enhance the capabilities of SMEs. By equipping their teams with the latest industry knowledge and technical skills, SMEs can adapt to changing market demands and drive innovation within their organisations.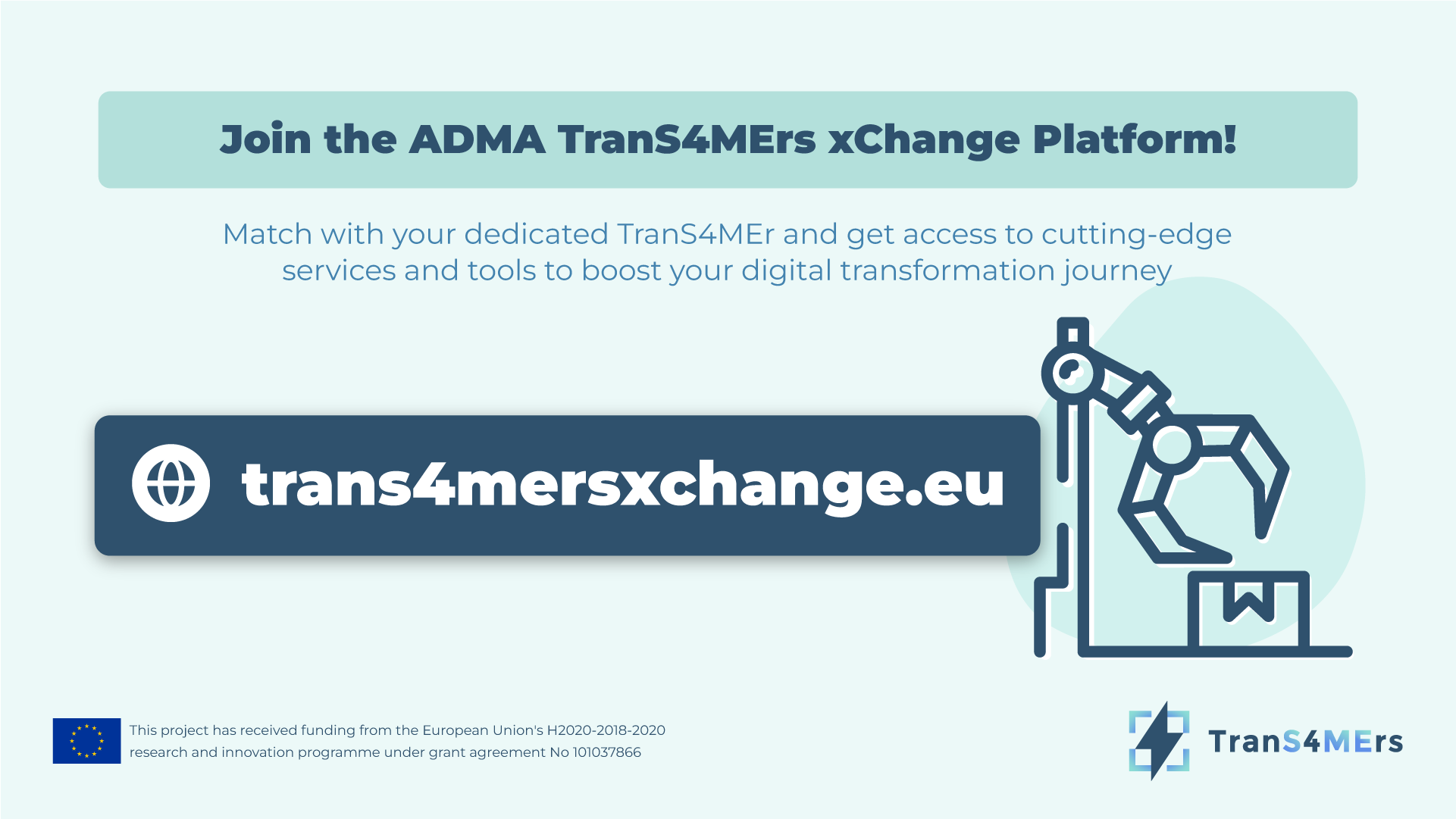 SMEs form the backbone of the advanced manufacturing industry, and their success is crucial for economic growth and innovation. The TranS4MErs xChange platform offers a comprehensive suite of services tailored to the unique needs of SMEs in this sector. By leveraging the platform's expertise, market intelligence, funding support, and training initiatives, SMEs can unlock their growth potential, drive innovation, and compete globally. Embracing these services is a strategic step towards a thriving future for SMEs in the advanced manufacturing industry.
Take the chance and browse our services yourself on www.trans4mersxchange.eu
Becoming a Factory of the Future starts NOW! Apply to our Open Call and get exclusive access to tokens to spend on your selected services.