Did you know that about one-third of manufacturing SMEs have no digital innovation strategy at all? This is a huge blind spot, especially in the manufacturing industry, where processes, speed and efficiency are of the utmost importance. And even amongst those that claim to have a strategy, only about two-thirds have it documented in writing, while the remaining third does not have their strategy documented at all.
Our project partner IMP³ROVE, a consultancy specialized in innovation management, helps us better understand these trends by sharing with us specific insights into international best practices in innovation management. IMP³ROVE's online assessment and benchmarking tools are based on the world's largest innovation management database to assess a company's digital innovation management performance: the "Digital Innovation Quotient Assessment" (DIQ). The DIQ results from manufacturing SMEs clearly show the potential that can still be exploited through a digital innovation strategy.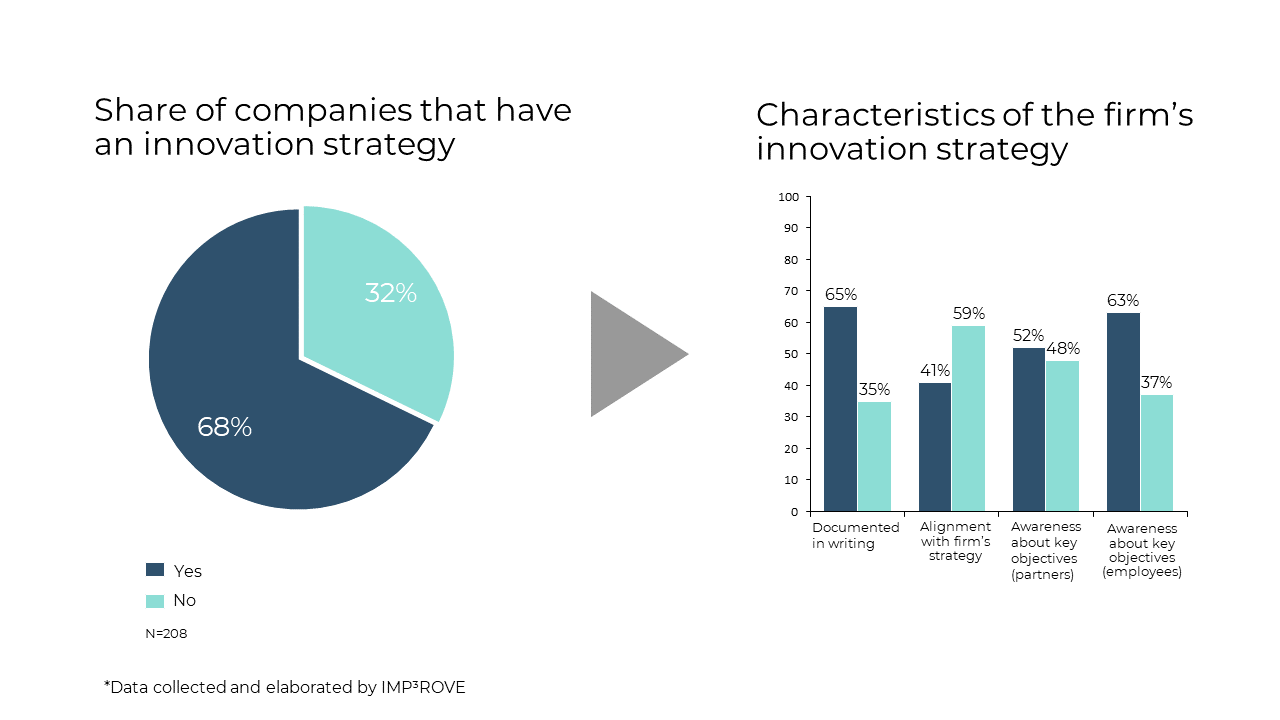 The data clearly show that manufacturing SMEs not only face challenges when developing the strategy itself, but also when having to communicate it. In fact, only about half of the SME's Digital Innovation Partners and only two-thirds of the SME's employees are aware of the strategy's key objectives, which hinders the SMEs from utilizing promising resources.
Of those manufacturing SMEs that have a digital innovation strategy, around 18% indicate that their strategy has enabled them to increase revenue and reduce costs, while around 20% indicate that they could improve their process speed.
And the other companies? ~50% of the respondents do not even have KPIs or other sources to indicate what the impact of the digital innovation strategy has been on their business.
Imagine the impact you could achieve with a structured, business-focused digital strategy in place to become the next Factory of the Future.
The ADMA TranS4MErs project responds exactly to these needs and offers EU-funded consultancy and services to take your business to the next level of success and implement your digital innovation strategy.
Join the ADMA TranS4MErs Acceleration Programme and apply to our ongoing Open Call before 14 December 2022. You will have the chance to receive specialized one-on-one assistance to develop a successful digital business model and a personalized digital strategy for the digital future. In addition, you can gain knowledge on how to lead and manage innovation processes in order to involve the relevant stakeholders in the process at the right time.
Moreover, at the second stage of the Open Call, the Revamp phase, you will have the chance to receive vouchers to purchase a tailored toolbox for your digital transformation from a catalogue of top-quality certified services and tools for manufacturing SMEs.
Get ready to start your transformation. The ADMA TranS4MErs xChange Platform and service catalogue will be launched very soon!
Find out more on our website and subscribe to our newsletter to be the first to know about the Platform launch.