May 31, 2023, 14:15-17:00
Milan, Italy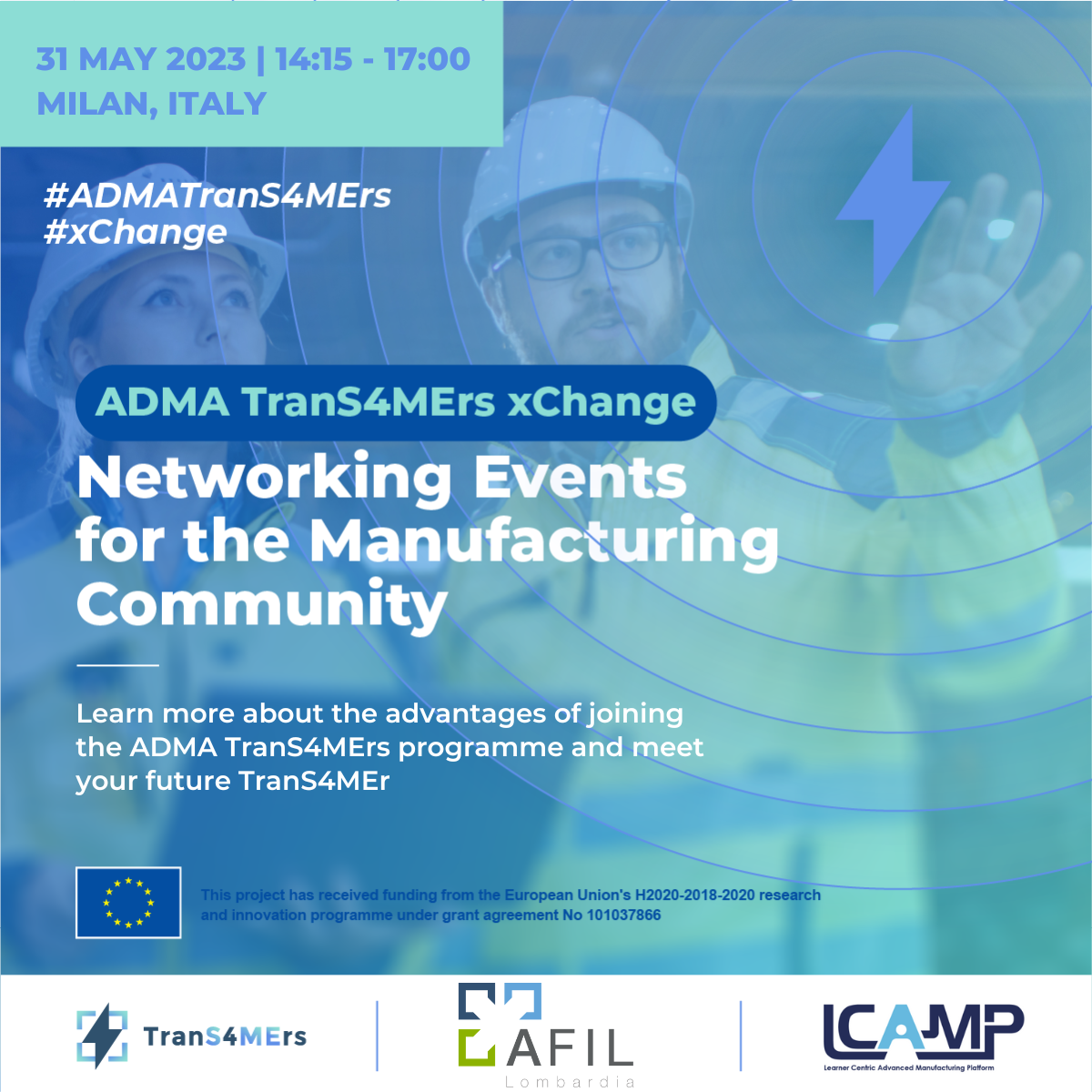 AFIL - Associazione Fabbrica Intelligente Lombardia is organizing its second xChange event in Milan, Italy, on the 31st of May 2023, in cooperation with Quantra and MADE Competence Center Industry 4.0.
The event "Manufacturing companies towards digital and green transition: EU opportunities" will introduce EU projects and initiatives supporting the digitalisation and green transition of manufacturing SMEs, such as the ADMA TranS4MErs project and its second Open Call, as well as LCAMP, a European project focusing on the improvement of skills in the Advanced Manufacturing sector, and other projects implemented by the co-organiser MADE Competence Centre Industry 4.0.
The xChange event (in Italian) will focus on:
ADMA TranS4MErs project and Open Call for manufacturing companies

ADMA methodology and scan

services and training for the digital and green transitions of SMEs

other EU project-related opportunities in the field of Advanced Manufacturing (including LCAMP)
The participants and SMEs representatives will have the chance to meet our certified TranS4MErs Samuel Nazzareno Monaco and Alessandro Marini (AFIL), Chiara Lazzaroni (Quantra), and Chiara Bonelli (MADE4.0) and receive guidance and support to take the first step into their digitalisation journey within the ADMA TranS4MErs Transformation Programme.
Venue
MADE Competence Center Industria 4.0
Via Giovanni Durando, 10, 20158 Milan (Italy)
Check out the full agenda (in Italian) and find more information and the registration form here.