–
March 15 - 17, 2023
Sofia, National Palace of Culture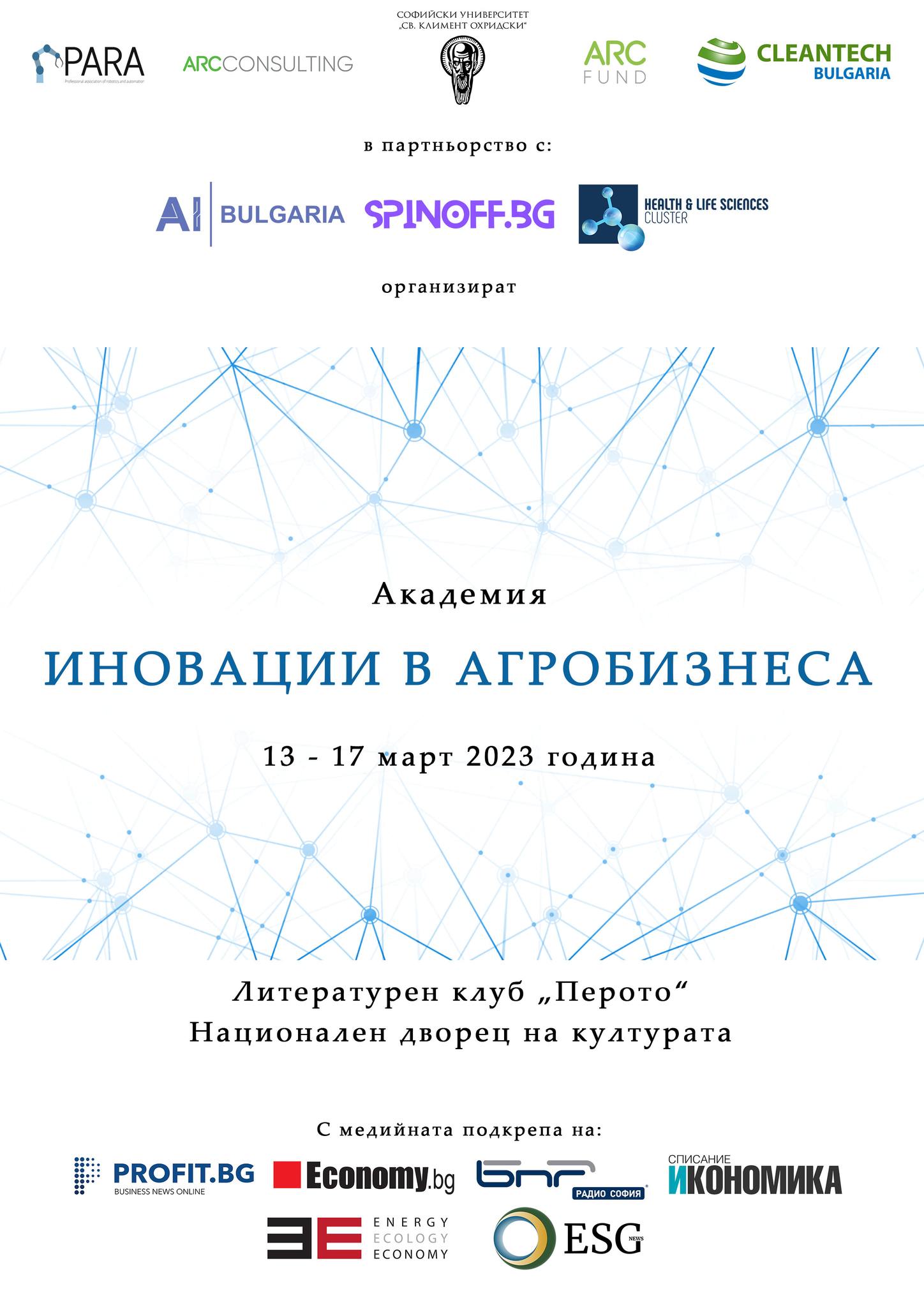 ADMA TranS4MErs will join the first edition of the national Academy Innovation in agribusiness to take place in Sofia, Bulgaria, on March 15-17th. The Bulgarian TranS4MEres will meet innovators and entrepreneurs , experts and students, media, interested in the latest trends in agriculture and innovative technologies in the area. On March 15th ADMA team will participate in a discussion on bio and green technologies, various opportunities for SMEs to develop further their potential in agribusiness and food industries. Join us on March 16-17th when ADMA experts will make a business presentation and will participate in a Q&A session with entrepreneurs and experts.
Key speakers present
Kristian Mihaylov, member of the board of the Professional Association of Robotics and Automatisation PARA
Christina Eskenazi, Chairwoman of Health and Life Science Cluster
Daniela Tchonkova, expert of Enterprise Europe Network Bulgaria
Zoya Damyanova, ARC Fund`s Programme Director
Peter Nefterimov, MBA, Co-founder of Flower in Tube Ltd.
List of TranS4MErs present
Teodora Georgieva, Senior Fellow, ARC Consulting EOOD
Daniela Georgieva, Expert, ARC Consulting EOOD and Dean at the International Business School,
Konstantin Uzunov, Expert, ARC Consulting EOOD, Konstantin is passionate about topics related to different types of innovation and sustainable development. He has business consulting experience working on private and public international projects in the field of innovation, digitalization, green technologies, scientific policies and urban agriculture. He is a member of the team-coordinator of the Enterprise Europe Network for Bulgaria – the largest information-consulting network in Europe to support the development of the innovative and technological potential of small and medium-sized enterprises.
Fanny Koleva, Expert, ARC Consulting EOOD and lecturer at the University of National and World Economy, Advisor in the domains of intellectual property, innovation management and internationalization.
Veselina Grinko, Expert, ARC Consulting EOOD, Professional consultancy experience working with SMEs in the field of energy and renewables. Experience in conducting trainings in the energy sector, resource efficiency and sustainable development. Additional work focus on process optimizations - digitalization and finance.
Adriana Dimova, Project manager, ARC Fund, Adriana Dimova holds the position of a project manager at ARC Fund. She has experience in the implementation of international research projects, funded by the EU Framework Programmes for Research and Innovation. Her current work is related to responsible research and innovation, citizen engagement in science, technology and innovation policies, energy and environment.
Desislava Asenova, Project manager, ARC Fund, Project manager with more than 8 years of professional experience with management and implementation of EU-supported projects funded under the EU Framework Programmes (FP7, Horizon 2020, ERASMUS+, Interreg Danube). My research focus is on energy (including energy efficiency, energy transition, and energy conscious behaviour), public engagement in research and innovation, policy design, social innovations, and sustainable development.
Marko Hajdinjak, Expert, ARC Fund, Expertise is in the fields of Responsible Research and Innovation (RRI), energy efficiency in the residential sector, energy citizenship, and green transition. In the past, I worked on a wide range of topics, from organized crime and smuggling, minority rights, migrations, nationalism, gender issues, exclusion and inclusion of disadvantaged communities, and safe and responsible use of digital technologies among children and young people.
Emanuil Georgiev, Expert, ARC Fund, Professional experience in generating content and conducting various types of courses, both for corporate training and for children, focusing on scientific and applied research.
Rositsa Georgieva, Expert, ARC Fund, Extensive experience in creating materials for trainings, conducting scientific and applied research related to the digital risks, opportunities, and skills. I have organized and conducted trainings for students, youths and teachers on the topics of critical thinking, media/digital literacy.
Agenda
March 14th - A special radio programme dedicated to the event`s topics, will show good practices and will give ADMA experts the opportunity to present our services once again.
March 15th - An open discussion on bio and green technologies, various opportunities for SMEs to develop further their potential in agribusiness and food industries. Co-organised by Cleantech Bulgaria.
March 16-17th - A business presentation, Q&A session and networking activities. ADMA will join a business fair, together with SMEs and organisations working in the area. An evening event co-organised by PARA, will give us an opportunity to meet new stakeholders and SMEs to join our programme.
Venue
Sofia, National Palace of Culture
Sofia, 1., Vitosha Bld.
Register at the following link: Академия Иновации в агробизнеса - Agribusiness
Find the event on Facebook fb.me/e/475QTWLzC