November 23, 2022
Espoo, Finland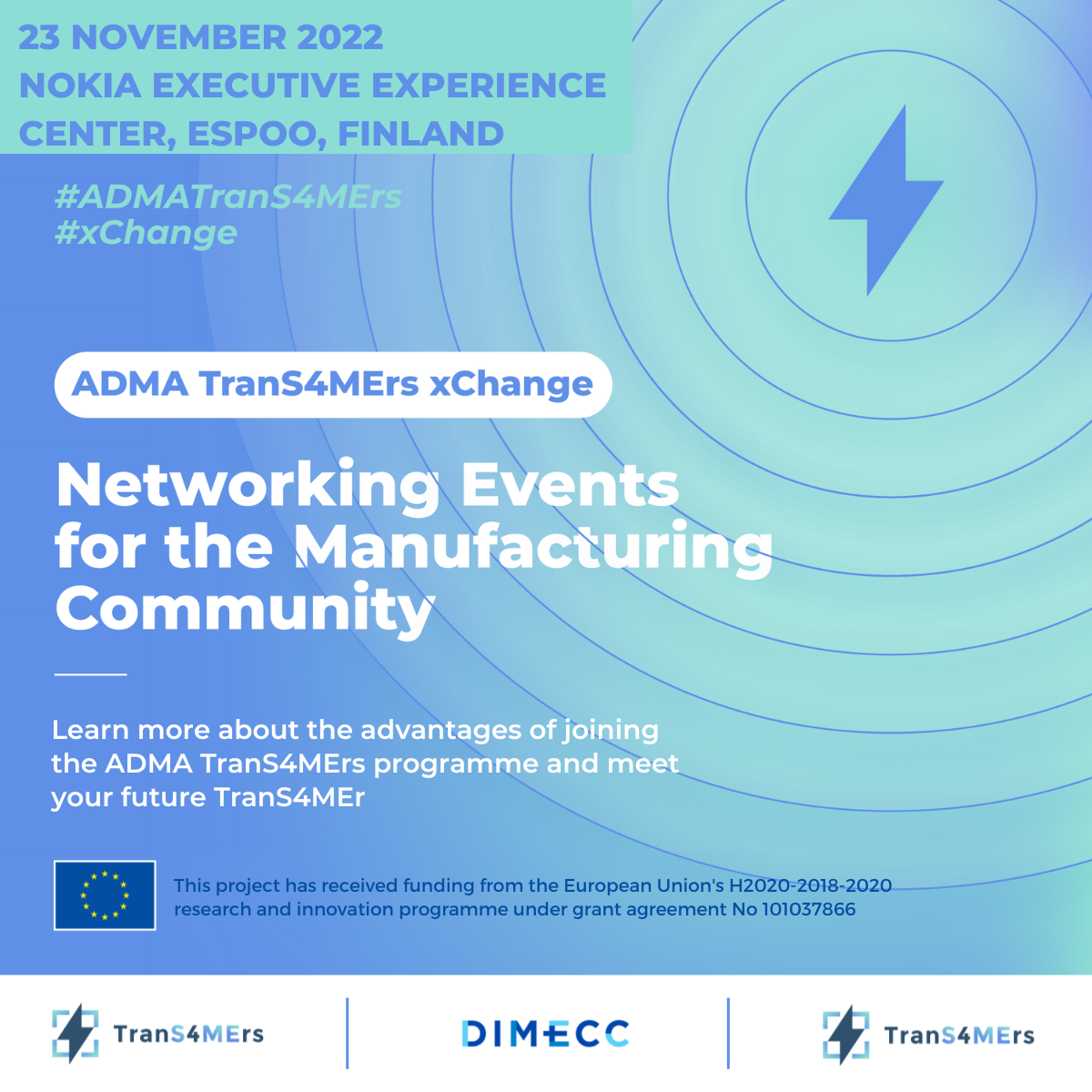 Our Partner DIMECC will organise the first xChange event in Finland in the framework of Connected Safe Industry, the 15th Annual Seminar of DIMECC organized with Business Finland and Nokia.
The event will bring together the key stakeholders from industry and organizations to discuss the current industry issues, the latest technological developments and safety.
With top speakers - Tuuli Ahava (Nokia), Juha Pankakoski (Konecranes), Toni Mattila & Kirsi Kokko (Business Finland), Jarno Salonen (VTT) - the day gives an opportunity to hear the current views of manufacturing organizations like Konecranes and Wärtsilä, while Nokia demonstrations give a peak at the latest technology.
DIMECC will have an ADMA booth in front of the auditorium, where participants can get to know the ADMA Trans4mers project, familiarize themselves with the ADMA Scan and meet DIMECC Trans4mers, Doris Pryjma, Risto Lehtinen, Seppo Tikkanen.
Preliminary Program
Time
Topic
Presenter
08.30-09.30
Registration, Networking Coffee & Breakfast
08.45-09.15
First Nokia demo session
09.30-09.45
Opening words & welcome
Tuuli Ahava, Nokia, Harri Kulmala, DIMECC, Toni Mattila & Kirsi Kokko Business Finland
09.45-10.15
Keynote – "Connected Safe Industry"
TBC
Company cases: Smart Industry
10.20-10.40
Wärtsilä new open technology hub – how to invest in the Future
Giuseppe Sarago, Wärtsilä
Networking break
11.00-11.20
Data-enhanced Safety as Competitive Differentiator
Juha Pankakoski, Konecranes
11.25-12.00
Panel discussion with the above presenters
Moderated by Risto Lehtinen, DIMECC Ltd
Lunch + Nokia demo sessions
Security
13.00-13.20
TBC
TBC
13.20-13.40
How to "cyber-ensure" the factories of the future
Jarno Salonen, VTT
Collaboration opportunities
14.10-15.00
TBC
Kirsi Kokko & Toni Mattila, Business Finland1
15.00-16.00

DIMECC ecosystem news: One Sea, FAMN, Vamos, FAME

DIMECC Prize award

DIMECC
Coffee break/Networking/Company visit
16.00-17.00
Nokia demo sessions
17.00– 19.00
Cocktails & Networking
The event is organized at At Nokia Executive Experience Center, Karakaari 18, 02610 Espoo. Find more information here.
Connected Safe Industry is FREE for all partners, customers and affiliates of the organizers. There is a limited number of guests we can host at the event site and registrations are open until 10 November 2022 at this link.